Fitness is a huge part of my identity. I don't work out to look good; I love food too much to care about weight loss. I work out to feel connected with my own body and to push myself beyond my limits. I do this every day, or at least, I try to.
My fitness routine depends on the season, travel status and my work schedule. In the last two months, I've been focusing on three things:
1. Rock climbing
As a little girl, I always admired my older brother who routinely climbed this monster rock. I thought he was superman (I still think he is). Years later, I learned that my then boyfriend (now husband) Camilo also likes rock climbing. We started training at the Rock Club in New Rochelle shortly after we moved in together. It's a fantastic activity for couples – it teaches teamwork and develops trust between partners.
Unfortunately, we had to drop our training as soon as we moved closer to the city. Climbing gyms require a ton of space, which is why they are generally located in the suburbs, and it's hard to find time to travel every day to work out. We ventured out to Brooklyn Boulders a few times on the weekends, but the crowds quickly turned us off. Plus, we had traveled an hour to the gym and then waited 5-10-minutes for each rope we wanted to climb…UGH! It just wasn't going to work for us.
The Gravity Vault
About two months ago a new climbing gym opened up right in our neighborhood- the Hoboken Gravity Vault. It blew my mind when we first visited the gym. The place has 40+ ft Climbing Walls, 45+ top rope stations, a whole floor dedicated to bouldering, a strength training section, and fancy lounge corners for post-workout relaxation.  Simply put, the place is HUGE. There are also plenty of outlets to recharge your phone, wifi, bar stools to sit and observe other climbers' technique, and sparkling clean bathrooms & showers! Added bonus: no foot smell (trust me, that's rare).
Partly because the place is so big, partly because of long open hours (6AM-11PM on some days!) and partly because New Yorkers refuse to travel to New Jersey, the place almost always feels empty. We've never had to wait to climb a wall…ever!
Needless to say, it's basically my favorite place to be.  Since we joined, we've been training here 3-5 times a week. Our workout routine takes about 1 hour 30 minutes.
Climbing Routine
We generally start with top roping for the first 45 minutes or so. In that timeframe, we can each go up about 3-4 times. The top rope routes are long and challenging; it's a good workout for your muscles and your mind. Climbing is like solving a puzzle with your body. It's a perfect combination of mental and physical activity. You're constantly trying to decide your next step, fix your body position, and recalibrate your balance.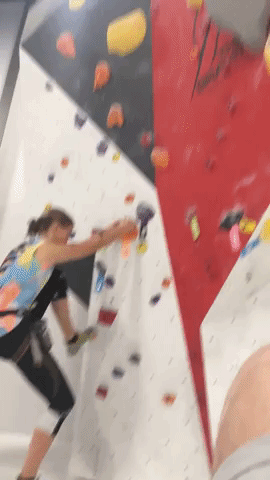 After top roping wears out our initial energy, we move over to bouldering (climbing shorter rock formations without a rope).  We'll typically boulder for about 30 minutes. In that timeframe, we finish 2-4 different courses each. Sometimes, we'll play a game. Our favorite is the 'add-on' game, where we take turns going up the wall one move at a time with each person adding on a new move that is as challenging or easy as they want it to be.
The last 10-15 minutes in the gym we spend on some quick strength training (high bar squats, deadlifts, pull-ups, kettlebells – whatever we feel like that day).
Climbing is one of those sports that (I believe) women are initially better at than men. We generally have less weight to carry up a vertical wall, and our center of gravity is lower, which helps with balance. Yes, some men may have more upper body strength than women. But if you don't know how to climb properly, even the biggest muscle man will fall off before he gets to the top.
2. HIIT, Tabata, Barre
High-intensity workouts are my second part of the current fitness routine. Conveniently, I've got a boutique workout studio close to my house – Clarity Fitness. I do HIIT and barre classes at Clarity whenever I can (used to be 3 times a week, but with climbing it's more like 1x-2x/week). I generally get bored in a typical gym, which is why HIIT classes work better for me. You're too breathless to think of anything else but surviving. After an hour of mountain climbers, push-ups, burpees, and pikes, I always leave the gym drenched in sweat.
3. Hot yoga
I'm getting older, and sometimes I wake up with back or knee pains I've never felt before. I know that I make things worse by never properly stretching after my workouts (smh, I know).
This is why I try to do hot yoga at least 1-2x/month. Hot yoga is like a soothing balm for my mind and body. I especially love Bikram and its repetitive, meditative movements. I can't recommend enough the Hot Yoga & Fitness studio in Harold Square, NYC.  It's a clean, large studio with very friendly, non-pushy staff.
Occasional run
This is not the season for running or cycling (my preferred summer workouts). Even so, on the few days when the temperature breaks 45 degrees, I race to put my running sneakers on. Past mile 4 is when my best ideas come to mind.