One of the defining features of a good life is the variety of places and diversity of people one gets to experience. For that reason, I try to travel at least 3 times a year. I consider my mission accomplished when I am entirely out of my comfort zone, half-lost, drinking coffee, chatting with locals, and watching the unfamiliar world pass by.  That is the pinnacle of a life well lived for me.
Anyway, when I'm not traveling, I lead a Country Club in NYC, a laid-back meetup for friends. Each month, we try to get more cultured and global by "studying" a new country. We assemble at the end of the month to celebrate that country and everyone gets a chance to showcase what they learned. It's always a ton of fun and laughter, combined with a bit of new knowledge and at least a few bottles of good wine.
This past Sunday, we met at the Gotham West Market to talk about Indonesia. I prepared a new game for the occasion – country club jeopardy! The board consisted of 3 sections – 'news', 'geography/biodiversity' and 'history/culture'.
To my great surprise, people actually knew all of the answers! What a smart bunch of cultured Manhattanites! Here's what we learned:
– Bitcoin was recently banned in Indonesia after central bankers warned that it posed a threat to the stability of the national currency. – Vice
– Jakarta is a nightmare for city planners, mainly because it is sinking — up to 18 centimeters every year. "It is sinking faster than any other big city on the planet, faster, even, than climate change is causing the sea to rise." NYT
– In the Treaty of Breda of 1667 the Dutch ceded their only North American possession [the island of Manhattan] in exchange for the small island of Run, an atoll in the Banda Islands, and a tiny group in the Moluccas (or Spice Islands) in Indonesia. FT
New York Times Travel Show
After our meal, we headed to the Javits Center for the New York Times Travel Show.
As a traveler who organizes my travels mostly by reading blog posts, I always wondered who plans their travel by attending a travel show? Well, now I know: baby boomers.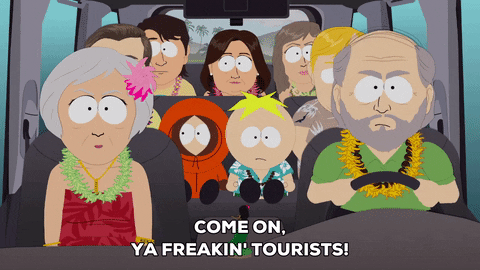 Saung Budaya – Indonesian Dance group
Even though we were among the youngest attendees we had a great time! Close up, the show wasn't just a sales pitch by big names in the travel industry. We attended 2 pretty entertaining performances – an Indonesian dance group Saung Budaya and a ninja show. Both were super fun! The Saung Budaya ladies had a quiz at the end of the performance and one of the club members (hi-ya, Joe!) ended up correctly answering the question and winning a scarf.
Favorite Travel Show Exhibits
Two exhibits really grabbed my attention. The first one was Camp Cody. They had a s'mores station at their booth which I thought was a brilliant idea. While I was making my smores they had my undivided attention and could have pitched me anything they wanted. Definitely taking a mental note of this tactic!
The second booth was a Ukrainian exhibit with the Chernobyl Tours. Ugh. It feels eerie to know that this has become a tourist location. I know that in my part of the world hundreds of thousands of people died prematurely from cancer caused by exposure to radiation. Am I curious to see the place? Sure. But not for the cringe-worthy voyeurism of "tragedy tourism." I am mostly interested in seeing this frozen city from the time of the Soviet Union.
Something I didn't know: the area has been cleaned up enough that the radiation throughout the Chernobyl Exclusion Zone is similar to New York City. So, it's probably a safe visit.
This month's country club was a fantastic adventure! It helped mature my intentions for the next meeting of the club and gave me some ideas for how to make the next meetup even more fun! 😀
Next Country Club meets at the beginning of March. We are discussing Armenia! Let me know in the comments if you'd like to be included on the invitation!